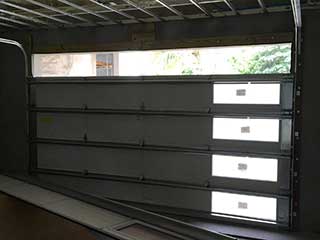 Garage doors can be complex systems which the potential to suffer from an array of issues over the course of their lifetime. Most of these will require an expert technician for resolution – that's what we're here for!
Openers Are Complex Machines
Locating the source of a problem with your opener can be harder than it looks. These machines combine a range of mechanical and electrical parts in order to control and power the automatic function of your door. Fortunately, you needn't tackle these problems on your own. Our team of professionals can fix any opener related malfunction, from a broken circuit board to an old set of motor gears. We also usually carry spare replacements with us meaning we should be able to replace any parts you need there and then.
The Problem With Springs
Your springs are very important components of your garage door system – if they fail, you'll no longer be able to open and close your door. Your springs also need to be strong enough to hold the weight of your door – they store a great deal of tension meaning they can thrash around violently and potentially injure anyone if they snap unexpectedly. Handling springs on your own if untrained can be very dangerous. But don't fret. Our technicians are here to help – just give us a call.
Dealing With Tracks - A Complex Affair
Your garage door uses tracks, placed horizontally and vertically, to guide the door up and down safely and symmetrically. In the event that these parts become loose or misaligned, or if they get rusty or bent out of shape, this can cause your door to get stuck, or even come off the track. To fix these problems, you'll again need the help of a professional.
Why not contact us at Garage Door Repair Forest Park now to get professional help from your local experts.
We also offer the following:
Garage Door Safety Inspections
Torsion Spring Adjustment